Get your Homestead and Garden Growing Right!
---
Our exclusive eBooks from TheHomestead.Guru team will give you the tools and information you need to take action in your own backyard.
Care & Keeping of Chickens – An exclusive publication by TheHomestead.Guru.
This 21-page eBook covers EVERYTHING you'll need or want to know about keeping chickens – from incubating your own eggs to collecting backyard breakfasts on the homestead. Information on how and where to buy your first flock, what to feed them, how to tell a roo from a pullet, and MUCH more in this comprehensive guide with photos throughout.
$2.97 – Instant download
---
Unschooling: Freedom-Based Education – Teach Your Children at Home, Enjoy Your Time with them, and Raise Happy, Functional Adults.
This 74-page eBook contains info on why and how unschooling is the way of the future, especially if you value your freedom. Learn from both new and veteran unschooling parents, and discover how you might change your parenting style and help your children to flourish. Don't recreate school at home – think outside the box, and unschool!
$2.97 – Instant download
---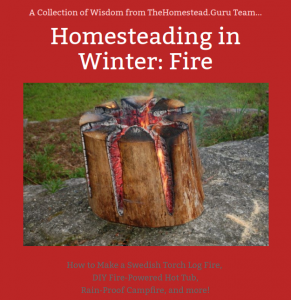 Homesteading in Winter: Fire – A collection of Wisdom from TheHomestead.Guru Team.
This 20-page eBook contains articles packed full of information about how to build fires in the rain, how to keep one log burning all night, and even how to make a fire-powered hot tub for those chilly nights on the homestead.
Topics include: Swedish Torch Logs, Build Fire in the Rain, One-Stick Instant Fire, Self-Feeding Campfire, DIY Fire-Powered Hot Tub
$2.97 – Instant download
---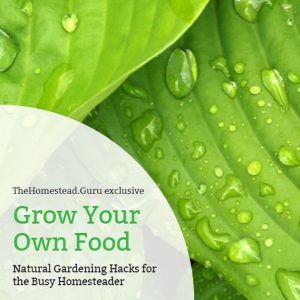 Grow Your Own Food:  Natural Gardening Hacks for the Busy Homesteader
This 96-page eBook contains 6 distinct chapters and 18 articles full of everything you need to know to get started gardening–with success.
From soil amendments and pest control to compost, companion planting, and starting seeds, this guide to organic, natural gardening has it all.
Chapters include: Soil & Compost, Starting Seeds, Planning Your Plantings, Managing Issues, Changing Seasons, and Get Growing!
$2.97 – Instant download
---
More great eBooks coming soon! Subscribe to our newsletter to be notified of new releases!
---