If you are a woman interested in growing cannabis and want a bond of sisterhood, you might consider joining the weed nuns! Weed Nuns grow cannabis commercially with hand harvest methods where they trim and bless each bud with sage before it is sold.
The Sisters of the Valley is a women lead business that crafts medicine from cannabis, and they consider themselves anarchists, activists, and sisters.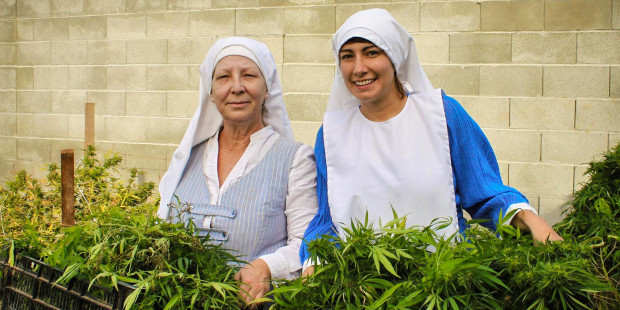 Sister Kate founded the sisters of the valley in 2014, based just 10 miles outside of Merced their farm is a one acre plot in California's central valley, where the sisters sell $60k worth of cannabis a month!
Cannabis commerce is illegal in Merced county, so the sister has to follow a strict set of laws so they are not shut down. The sisters believe legalizing cannabis commerce would increase economic opportunity in the area.
The sisters are not real nuns, as they do not associate with the Catholic Church or any man made or contemporary religion, rather their organization is based on the Beguines, which were groups of women from the Middle Ages, that lived worked and prayed together without any input from men or the Catholic Church.
The weed nuns grow non-psychoactive cannabis which means their stains are low in THC and high in CBD, CBD is known to restore happiness, positive mood, and overall health and well-being. CBD reverses depression and stress and includes powerful medical benefits such as treating inflammation, anxiety, physical pain, seizures, and even nausea and vomiting.
Get Brave Botanicals 150mg Hemp Extract Edible Gummies here!
CBD has been proven to minimize the symptoms of dementia, depression, and even cancer. Fighting off psychotic disorders and vascular diseases, CBD is one of the most holistic remedies for many different health problems.
These ladies work hard to maintain their business and want to spread healing to as many people as possible, they believe in honoring the plants and cultivating the purest quality medicine for their customer base.
The sisters have customers all over the world and as a healing organization their goal is for weed nuns to spread into every city and every town across the planet.