Think mason jars are handy? YOU HAVE NO IDEA. Turns out you can get really crafty with the lids, too. Here are a few of our favorite uses.
Cupcake holder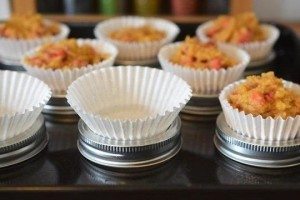 Who has a surplus of mason jar lids and no cupcake pan?? A MASON JAR LOVER, THAT'S WHO! Hold the cupcakes liners in place with the mason jar rings and problem solved! VIA Wonder How To.
Lid coasters
If you're like me and use your mason jars as drinking glasses, protect your surfaces with these coordinating coasters. Get the how-to VIA Beneath My Heart.
Plant markers
Don't toss those flat lids! Instead, use them to label your plants in your garden. Get the how-to (including printables) VIA Prudent Garden.
Match box
Swap out the lid to create this durable "match box." (Then, use the lids for the plant markers above;) Just remember, you need to use STRIKE ANYWHERE matches for this to work. Get the full how-to via The Burlap Bag.
Picture magnets
Get out your Mod Podge and get to creating these beautiful magnets with your favorite images. (Makes great gifts!) Get the how-to VIA The 36th Avenue.
Salt shaker
If you're all "I want to use my mason jars for EVERYTHING," don't think you're limited to the standard lid. This DIY lets you convert your mason jar into a spice shaker in no time! Get the how-to VIA The Burlap Bag.
Suncatchers
This DIY is not only quite beautiful, it's a great spring project to try with the kiddos. Get the how-to VIA Hands On As We Grow.