The FDA is cracking down on false and dangerous product claims, and in its zeal to protect consumers, it's targeting a small herbal products company run by the Amish (those purveyors of illicit activity).
Fifty-six year old Kentucky farmer, father of twelve, and grandfather of 25–Samuel Girod is not who you'd expect to find when you look at a hardened criminal.
However, he's facing 68 years (essentially a life sentence) in federal prison for charges related to his herbal products, including a chickweed salve he's been making in his kitchen for the past 20 years.
Learn more and watch the local news story here. 
FDA Steals Natural Salves Off the Shelf
Back in 2013, a local health department official saw Girod's products for sale in a convenience store, and reported them for "false labeling claims". He included testimonials from longtime users of his chickweed salve on his labels, who said that it "cured skin cancer", among other things.
The FDA seized his products from the store, saying they were mislabeled drugs.
He changed the labels to say "Chickweed Healing Salve", but the FDA later said that use of the word "healing" on his products was also illegal.
According to the FDA, only registered and FDA-approved drugs can claim to "heal, treat, cure, or prevent" any disease. So in order to keep selling his chickweed salve, Samuel Girod would need to pay many hundreds of thousands of dollars and wait years to go through the arduous process of FDA testing and approval for his "drugs".
These laws mean that apple farmers would face the exact same charges if they tried to market apples by saying, "An apple a day keeps the doctor away!"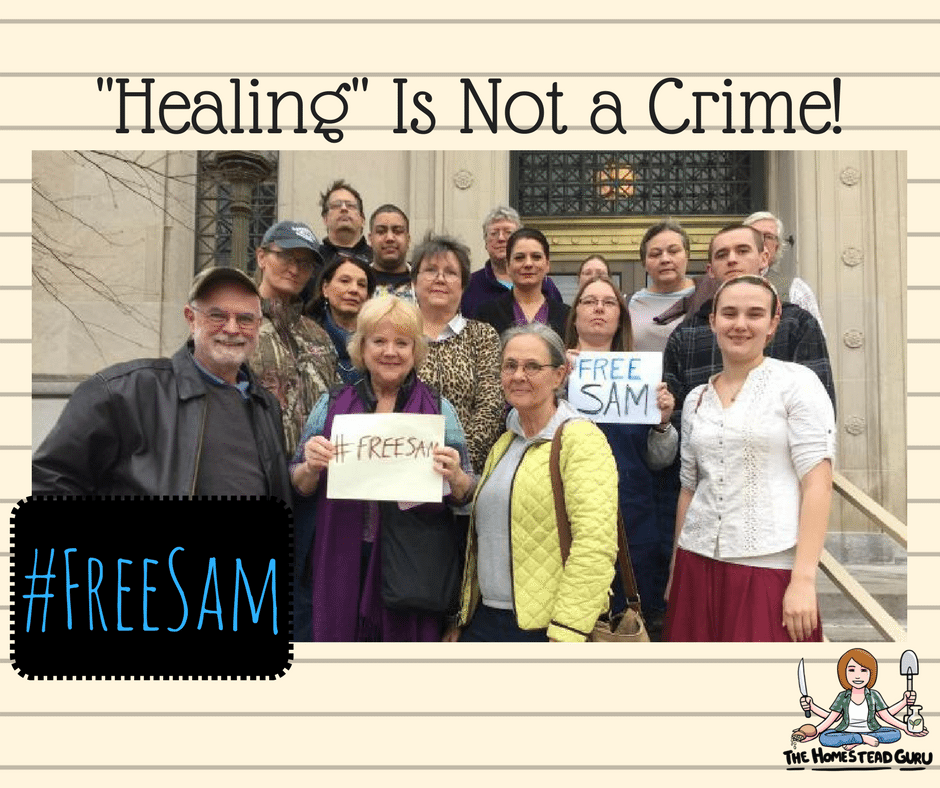 Girod Tried to Comply
Girod changed his labels many times. He tried to peaceably cooperate with the authorities on many occasions. FDA representatives and the deputy sheriff came to his farm in late 2013 and agreed not to bring cameras, but they broke their word.
After that, Girod declined their request to inspect his home, (correctly) citing that they did not have a warrant and therefore had no right to be there.
The deputy sheriff agreed, and escorted the agents away–but the FDA didn't like that.
Over three years later, the FDA finally decided to formally press charges.
In early January 2017, 56-year old Girod was handcuffed and arrested at his Kentucky family farm, and is right now in jail without bond, awaiting a federal grand jury trial at the end of February.
He is facing over a dozen criminal charges, to include distributing misbranded drugs and conspiring against a government agency.
The Amish are a self-sufficient people, and also an easy target for governmental institutions to make example of, due to their dislike of conflict and lawyers.
There is only one single consumer complaint on record in the 20 years since Girod has been making and distributing his products, which is a significantly better track record than many FDA-approved products!
Let's Take Action!
If you think the FDA is wasting time and resources prosecuting a "drug distributor" like Samuel Girod, here's five things you can do to make your voice heard:
1. Sign this petition to issue an immediate Presidential pardon for Samuel Girod. http://bit.ly/freeamishsam. His trial is in just 3 weeks.
2. Email President Trump directly, here: https://www.whitehouse.gov/contact
3. Email the Attorney General too: https://www.justice.gov/contact-us
4. Call or email your legislators, both Federal and state, even if you don't live in Kentucky:
http://www.house.gov/representatives/find/
5. Donate to Samuel Girod's legal fees here: https://www.gofundme.com/supportsamnow