The decision to move to Mexico was easy because I thought I loved Mexican food.
Turns out, I do, but what I thought was Mexican food is really TexMex. And actual Mexican can be even better. Today's example? Authentic Mexican Birria
Recently, I made this recipe for my love's birthday and his Mexican family. They seemed more than skeptical that I was starting birria, a Mexican hangover delicacy that's usually slow-cooked just an hour or so before serving. Luckily, thanks to my instant pot R2D2, nothing is impossible and I managed to impress them with my speedy stew.
Authentic Mexican Birria is slow-cooked meat, usually tough cuts of beef, lamb, or goat. It bathes in a rich chili-spiced sauce and looks like something a witch might brew. The first time I had it was on an empty stomach. As a result, I was skeptical of my ability to deal with that much chili. But there's something magical about the fat, salt, and spices that made the intensely flavored broth perfect for my sour stomach.
How to Eat Birria Like the Locals
The two common ways to consume Birria are in tacos de birria or as a stew with a stack of warm tortillas you can use as edible napkins. This recipe is the latter. The locals roll up tortillas for eating with soups. As you'll find from this recipe, there's nothing quite like a warm tortilla tightly rolled and used for dipping like a breadstick in a bowl of birria!
If you can somehow manage to not eat it the first day (good luck!), you'll be blessed with even better birria as I found from eating the leftovers. Certainly, it was a huge enough difference that I plan to either slow cook it next time or put it away before eating any to allow for all the flavors to adequately marry. I made another batch yesterday and I'm proud to say I had 3 times as much leftover this time.
This authentic Barria recipe is written for the Instant Pot but there will be notes below for both slow cooker and stovetop/oven options.
Barria Ingredients:
1.5 k beef leg, cut into smaller cubes
1.5 T salt
4 c beef bone broth
Water if needed
5 Guajillo chiles
3 Pasilla chiles
2 T beef tallow
1 red onion, roughly chopped
8 large garlic cloves, roughly chopped (use more if the cloves are smaller)
9 pan blackened tomatoes
2 T vinegar
1.5 T oregano
2 sprigs dried thyme
3 bay leaves
1 cinnamon stick or 1/2 tsp ground cinnamon
7 whole cloves (½ t cloves)
1 t cumin seeds or 1.5 t ground cumin
2 t coriander seeds or 1 t ground coriander
8 whole peppercorns or 1 t ground black peppercorn
1 T honey or small cone of piloncillo (Mexican brown sugar)
Note: If you use powdered cumin, pepper, coriander, skip toasting. Only toast whole seeds.
How it's done:
1) Prepare meat by salting, and set aside.
2) Break chiles apart, removing as many seeds as possible. Next, toast the seeded chilis in a dry pan (no oil) until slightly soft and darkened. Don't burn them! Keep them moving constantly for no more than 2 minutes.
3) To make the base for your authentic Barria, add the toasted chiles and 2 cups of the bone broth in a saucepan. Bring it to a simmer. Set aside for 20 minutes.
4) Using the same add the whole spices and toast. Skip this step if substituting ground spices. Note, the flavor will not be as complex and wonderful.
5) Remove the cinnamon stick. Put the remaining toasted spices in the blender and pulse.
6) Start frying the onion and garlic in beef tallow in the Instant Pot on the saute setting. Cook until golden.
7) Make pan-grilled tomatoes by setting tomatoes in a dry pan (no oil or water) on medium heat. Allow the skins to blacken. Next, chop the tomatoes and add them to the Instant Pot with the sauteed onions. Add the vinegar to deglaze the pan. Allow the juices to cook into a sauce for about 5 minutes.
8) Add the broth and chiles to the blender with 1 cup of the tomato mixture. Next, blend until smooth. Add to the instant pot.
9) Add the salted meat, the honey or piloncillo, and the remaining beef stock to the instant pot. If the meat isn't fully covered add a little water until it is. Use the pressure cooking lid and set it to the sealed position. Pressure cook for 45 minutes.
10) Finally, when the timer goes off, allow natural pressure release.
At this point, you can leave the instant pot on warm. The longer you leave it the more flavorful it becomes. Similarly, you can increase the flavor by allowing as much as you can manage not to eat to cool, storing overnight in the refrigerator, and enjoying the "leftovers" the next day.
Best served with toppings!  Diced fresh onion and avocado are my favorites. Cilantro and lime are technically mandatory for Birria in Mexico.
You can put all sorts of things including radishes, cheese, and tomatoes as well.
Alternatively, for birria tacos, heat or fry corn tortillas then dip in the broth before building the taco. The broth adds extra flavor and fat to the taco.
For a slow cooker, cook for 6-8 hours on low-medium temperature. Also, if you use an Instant Pot slow cook method I recommend still pressure cooking for a short time either before or after and set the Instant Pot on medium.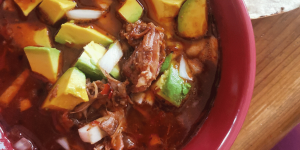 Only have a stovetop? No Worries! You can simmer this authentic Mexican Birria all day in a pot on low heat. You will have to pay attention and add water every half hour or so. However, using the oven is a better option because you'll only have to add water every few hours.
Enjoy more Authentic Mexican cuisine with this Ponche Navideno Mexican Fruit Punch Recipe