It's getting hardly any mainstream media attention, but there's a showdown brewing in Austin, TX that may have grave consequences for cancer patients across the world. Current and former cancer patients suggest a cancer cure is being suppressed by a local government agency.
Dr. Stanislaw Burzynski, MD, PhD, (Houston, TX) faces the Texas Medical Board and the possibility of losing the medical license he's used to cure patients of cancers that other doctors say is impossible. Burzynski, who has a rock star following amongst his former patients, was accused over two years ago of more than 100 charges by the Texas Medical Board. The state agency embarrassingly spent nearly $200,000 on the case and the judge dismissed all but seven of the accusations.
But the seven remaining accusations, none of which are against Burzynski himself (staff he supervised are accused of seven mistakes over a seven-year period) will be fair game for TMB on Friday March 3 in downtown Austin (333 Guadalupe St. – 9 a.m.). TMB staff are recommending probation and a nearly $400,000 fine in their latest battle against Burzynski. Each member of the public is afforded three minutes of public testimony at the meeting, but only after the TMB has made its decisions.
Burzynski, who has proudly published the results of several Phase II FDA clinical Trials, was supported by former patients during the State Office Administrative Hearing (SOAH) in 2016 who said under oath they were given up on by medical doctors at prestigious American institutions.
Mary Susan McGhee who flew from Montana to testify, said that in 2011 doctors at the Billings Clinic and Mayo Clinic, said her best option was to go home and die after diagnosing her with Stage IV esophageal cancer. Jessica Ressel's mother Robin testified about her daughter's recovery from a DIPG tumor, a diagnosis believed to be fatal in 100% of patients. Mary Jo Siegel testified she's cancer free after her 1991 Stage IV Non-Hodgkins Lymphoma. Margaret Manning mentioned Burzynski cured her of Stage IV Mantle Cell Non-Hodgkins Lymphoma in 2009. Mary Michaels testified her son Paul was cured of an inoperable optic-hypothalamic glioma astrocytoma.
These former patients say they live in fear daily that their cancer will reoccur and the doctor who healed them will no longer be in business. Current patients who have had tremendous success so far under Burzynski's protocol say they're facing certain death if the Texas Medical Board has its way. Former patients have netted over 55,000 signatures on a change.org petition which goes into more detail on the cancer cure saga.
Patients from around the world (including Turkey and Netherlands) are descending upon Austin in the coming days with the intention of lobbying Texas lawmakers, protesting the morning of Burzynski's hearing, and spreading awareness about what they say is a safe and effective cancer cure that's been ignored and downplayed by public health officials for decades.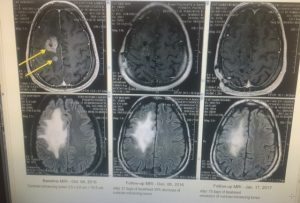 Above, is the brain scan of Burzynski patient Patrick Powers (obtained legally with his consent) which shows his brain tumor disappearing in 79 days, (10/4/16-1/17/17) The top column shows the tumor diminishing (left to right) and the bottom column records brain inflammation.