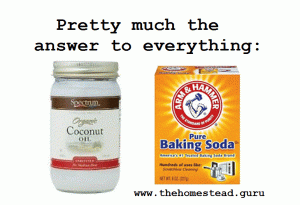 Here it is–the ultimate minimalist life hack: Deodorant that doubles as toothpaste!
Okay, it might sound crazy, but actually, you can do an awful lot of good things with baking soda and coconut oil.
Once you start exploring the huge variety of DIY personal care product recipes out there, you'll start to notice that many of them have the same basic ingredients.
This radical recipe is the result of my own experimenting, and I've used it daily for years.
DIY Toothpaste/Deodorant:
Get a 4oz mason jar, and in it, mix together with a fork…
2 Tbsp coconut oil
1 Tbsp baking soda
1 Tbsp arrowroot powder OR cornstarch
5-15 drops of essential oils–optional
It's going to look like it won't fit in the jar at first, but it will. Mix slowly and carefully until the powders are absorbed into the oil.
Get Purly Grown Cold Pressed Virgin Coconut Oil, 16 oz on Amazon!
For the essential oils, I recommend using peppermint or orange, since these two are great for both flavor and scent! The recipe will work just fine without essential oils, too. Baking soda has a naturally salty flavor, and the coconut oil will give it a decent texture.
If you have an allergy to corn, or you're concerned about GMO's in regular cornstarch, you can get organic cornstarch or opt for arrowroot powder instead. The arrowroot powder (sometimes called arrowroot flour–same thing) gives a slightly coarser texture, but both work really well in this recipe.
This toothpaste/deodorant is easy and cheap to make, and lasts a really long time. 
To use as deodorant: Scoop up a pea-sized amount (or slightly more) with your clean fingertip, rub it between your palms, and apply to your underarms.
To use as toothpaste: Dip a dry toothbrush right into the jar and get a pea-sized amount, then wet your brush and start brushing!
Get Uncle Harry's Fluoride Free Toothpaste – Peppermint on Amazon!
If you're traveling or camping, you can spoon this mix into a small glass jar like this one, and really cut down on how much you need to carry. This mix will melt in very hot weather, but it will still work great for your teeth AND your pits!
Are you ready to try this double-duty DIY recipe? Tell us what you think in the comments!