Originally posted on Sovereign Motherhood, September 1, 2019:
Minivan Camper Conversion
I am FINALLY getting around to posting the pics and design process behind my minivan camper conversion.
You see, we had plans to be camping in Maine this summer, but the universe had other plans. In order to satisfy our craving for adventure, I decided to figure out a way to create a camper conversion with our current vehicle. It was an epic idea and would have been perfect for Maine, but it was not perfect for a Texas summer. At all.
We definitely took some fun weekend trips to New Braunfels and San Antonio and camped at the lake in Austin, but the heat was pretty unbearable and we didn't use it much. However, I am really looking forward to using it for future fall or New England adventures.
The Conversion Process
In hindsight, I wish I had recorded this process thoroughly. But I didn't. I'll just have to explain as best I can.
I knew that I wanted something that could organize our possessions, provide a comfy sleeping spot. Something that would allow us to store our camping belongings for spur-of-the-moment trips. I still need to buy a camping stove, cooler, solar shower, and toilet. But the current set-up was perfect for regular campsites that had all the amenities that you would need. I'm sure that there are singles without kids, who could make this a full-time solution for travel, but that's not me.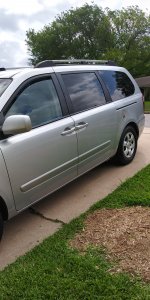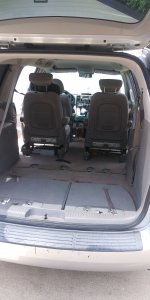 Pinterest Your Way to a New Camper
The first step was getting on Pinterest. I wanted to see what ideas were available. I found some ideas and pinned them on my Minivan Camper Conversion Board keeping in mind that I wanted the design to feel calm and not claustrophobic. So, I put together a mood board on my Boho Minivan Conversion Board with all of the designs that interested me.
Next, I went to Ikea to get a feel for what I wanted in the van. I knew that I wanted calming colors that coordinated with the grey interior. In a space this small, you can really change the feel of it just by playing around with different colors. Usually, I'd prefer to source my decor by re-purposing found or thrift furniture. But I needed specific dimensions and functionality, so waiting to find the perfect item wasn't a good option.
Ikea's Trofast storage units were my choice for the base of the bed. However, it wasn't clear what I needed for a mattress or to secure the mattress on top of the units. I went to Michael's crafts first to see if their foam would be a good price. In the end, the Ikea twin mattress was much more affordable.
My Pinterest explorations gave me an idea of what I wanted it to look like…mostly muted tones and colors. Ultimately though, I ended up getting lost in choices and going in a different direction entirely.
Creating a concise mood board prior to my Ikea trip might have been a good idea. In the end, I tried out different ideas and returned what didn't seem to flow well.
Here are some of my Ikea finds that I was eyeing for my minivan conversion: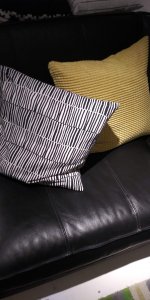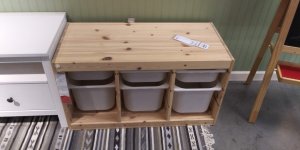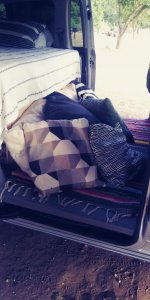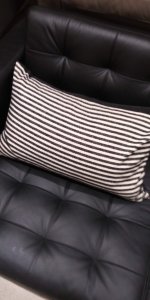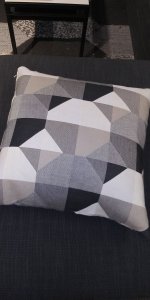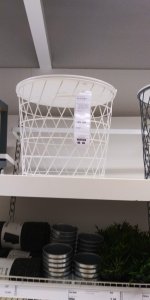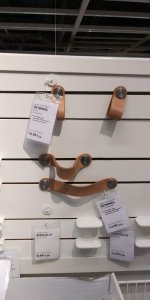 I put together a Design Board with coordinating Project List, which detailed all of the elements that I needed for this project.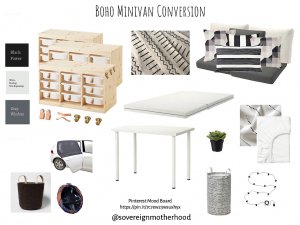 ​​
Initially, I had a different layout for the Trofast storage units, but they didn't fit as well. I found that using one in the back of the van, and 2 that face each other inside, was the right layout for our needs. But to be honest, if you are just using this for camping trips, and don't need a ton of storage space, I would prefer one Trofast unit and 2 tables for the base of the bed. You would have more storage underneath and it would be easier to get to the items. Our current setup doesn't allow us to easily reach the drawers that face each other.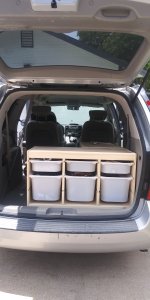 I needed to store Calvin's stuffed animals and blankets, so I used large, outdoor pillowcases to store those items. I also measured the mattress to fit across the van. The extra length was trimmed and used on top of the Trofast unit, for extra sleeping space.
I ordered window nets, for car camping, off Amazon. They didn't arrive in time for our first trip, so I just bought mosquito net curtains at Ikea and put it on the back of the van, so it's like sleeping in a tent.
Here it is!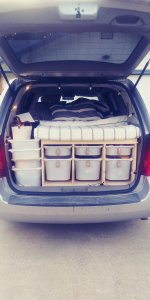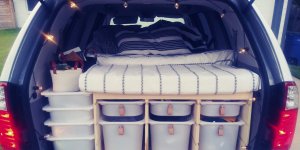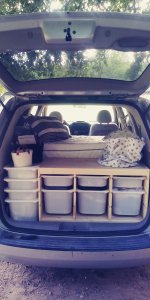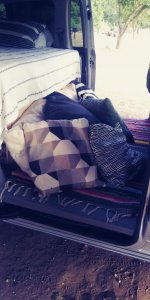 I am super happy with the results and can't wait for our next COOL WEATHER camping trip.
The Project List for this conversion, with a shoppable list, is here: Boho Minivan Camper Project List
Enjoy! Do you have any plans to convert a van into a camper? What are your must-have items?
Got a few extra bucks laying around? Check out this beauty: This Camper Turns Into a Boat!