Micro Home on Wheels
This camper is designed with the avid cyclist in mind!  Designed for one person, the camper shell fits on top of a cargo hauling bicycle, similar to the camper shell on the back of truck.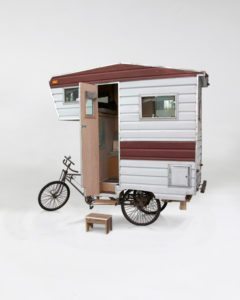 The design allows the owner to take their home-on-wheels any where they are able to pedal. The infrastructure is small, and designed to fit one person comfortably.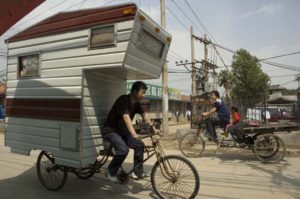 Efficient Design
Inside you will find a small bed the rests above the rider's head, a bench seat with underneath storage, and a counter space with a fold out table for eating.
The piece was thoughtfully designed with external storage to help the camper while on the road.  For example, check out this axe holder for cutting firewood on your journey:
A Work of Art
The designer of this camper is actually an artist. Kevin Cyr loves the look of RVs and landscapes that appear to be in decay to the modern viewer.
I find that there is so much character in old delivery trucks and vans — especially when covered with graffiti — and in the old RVs parked off a main road. Removing them from their everyday context gives them portrait-like importance. I paint with devoted attention to every imperfection and sign of age.
Here are two of his paintings of the camper bike: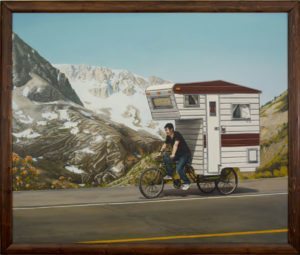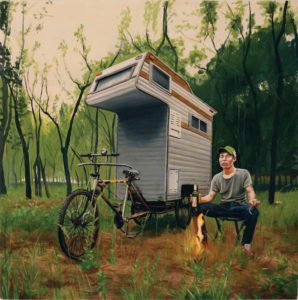 He designed the recreational bike as a stand alone art piece in 2008. The beauty of this art, is in its functionality. This art can travel, and becomes a living piece of art through its use.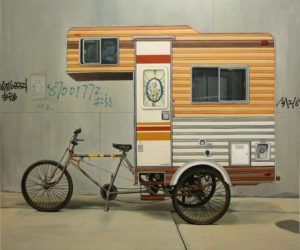 I have contacted Kevin to see if he has the design in production, or if there is anyway to purchase the camper. When I hear back I will update this article.
Until then, I do know of this human powered mobile home for sale for less than $150.