What to Plant in August
The growing season is well underway and you have probably already harvested much of what you planted this spring. If you haven't been succession planting all along, then your garden may have grown patchy with bare spots of earth between crops. Here is a guide on what to plant in August to reinvigorate your garden.

It's Time to Plant A
gain
!
For those of us in zones 5-7, we have about three months left before the first frost which is plenty of time to get in another harvest of various crops. One thing you have to be aware of is that whatever you sow in-ground now must be able to withstand the high heat of the summer sun and the cool weather of the early fall. 
There are many great crops well-suited to planting in August but for now, I am going to focus on my absolute favorites.
Brussels Sprouts 
I love my veggies. I really do, but there is something extra special about brussels sprouts. I often judge restaurants by the quality of their brussels sprouts. Now that I grow my own, I am an even bigger fan of this crunchy, versatile brassica. I always try to get the second sowing of brussels sprouts in mid-season. These little guys need 8-10 weeks before the first frost. Be sure to give your brussels sprout babies consistent moisture and natural fertilizer about a month after planting and you can expect a nice harvest at the end of the season. Just in time for family gatherings and harvest festivals. 

Beets
Beets! Beets! Beets! Another family favorite. I find these guys hard to resist and often eat them straight out of the garden. They are crisp and sweet and so incredibly versatile. We enjoy them fresh, pickled, roasted, blanched, and even in soups (mmmmmm…. can you say borscht?). If planted in the spring, your first beet crop should be done by mid-season which means it's time to plant a succession crop of beets in August. They do well in the warm weather but really flourish when it cools a bit. If you leave them in-ground after the first frost and even under a bit of snow, they develop an even sweeter flavor profile. 
Broccoli 
My kids call broccoli little trees and they LOVE them! I mean, to be honest, they got it from their momma. It is definitely a favorite around here and can be planted for both a spring and fall harvest. Broccoli takes about 55 to 65 days to mature. An early August planting allows for just the right amount of time before the first frost of the season. Even if there is an earlier-than-predicted frost in your future, not to worry; broccoli does well in frost and can take on an added sweetness after a touch of cold. 

Kale
There is no doubt about the nutritional benefit of this fiber-rich, nutrient-dense powerhouse. But did you know that it is also incredibly easy to grow in both spring and late summer for a fall crop? After harvesting your summer crop of kale, you can prep the soil for another batch and plant more mid-season. Just be sure to thin your rows to 18 inches apart to ensure that each plant has enough room to flourish.
Cilantro
Cilantro is an excellent herb to plant in August as a succession crop. Most gardeners plant it in the spring but by August they have matured and gone to seed. There is plenty of time in a season to get a few successions of cilantro in. I like to plant a few when patches open up in my garden all season long. They tend to go to seed quickly, which isn't a terrible thing because the seeds of cilantro are coriander, a deep earthy spice used to intensify many different dishes. 

Basil
Like cilantro, the basil in your garden has probably already shot to seed by mid-season. If you tuck in another planting in August, you will have enough delicious basil for your autumn pestos. You can also add some of your basil to tomatoes and preserve them for a fresh-tasting treat in the winter.  I personally love the purple varieties because they add a nice, deep color to your garden as edible ornamentals and are chock full of antioxidants.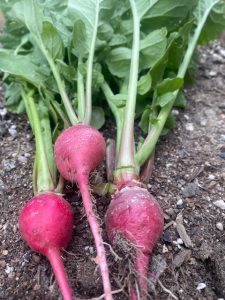 Radish
I cannot stress enough how much I love radish. They grow quickly and can tolerate warm and cold temperatures. You can actually harvest and eat the radish greens before their roots are mature, just make sure to leave a few leaves attached to carry out photosynthesis. When the radish roots are done, you can eat them raw, pickled, puréed, or roasted for four very culinary different experiences.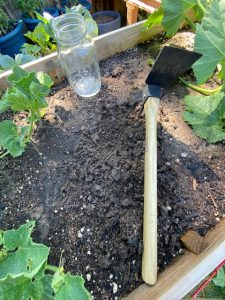 Get planting in August!
I love planting in August because I have an opportunity to improve upon or repeat what I did in the spring. I get to sow some of my favorite crops and it signifies the halfway mark through the growing season. There are many other plants not listed here that can do well when planted mid-season (I just picked my favorites!). Whichever you choose, just make sure you get it in the ground soon and love on it daily.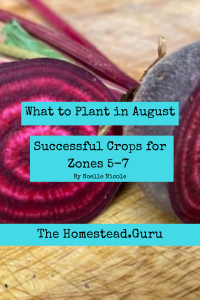 Learn about the benefits of companion planting with more from the Homestead Guru:Tomatoes Hate Cumcumbers: Secrets of Companion Planting