A guest post by Lucy Clark of Garden Ambition.
---
Homesteading is a fantastic way to live sustainably and have more financial freedom in the long run. It can be done either in urban, suburban, or rural settings. Wherever that may be, everyone needs to remember these homesteading mistakes to avoid:
1. Not inquiring about the bylaws or ordinances of the land you wish to live on
When we think about homesteading, we automatically associate it with agriculture and animal husbandry. We often assume that we can raise animals anywhere we like. However, every community has bylaws we all need to know and follow.  According to the Journal of Rural Studies, it pays to know "how the differences in regulatory environments, institutional factors, and politics are shaping the scope and pace of change in each farming sector."
Know the rules first before you start investing heavily on your homestead.
2. Not observing and studying your property
Study the property at different times of the year to observe the characteristics of the soil, weather, indigenous plants, and practically any information you can gather. From the data you collect over time, you can carefully plan how to set up your animal shelter and/or garden.
During times when there is little sunlight or you just want to grow some plants indoor, one solution is to use LED lights to grow your vegetables. When it comes to watering your plants, you can also opt for a hydroponic system, which gives you greater control over the amount of water and nutrients for the plants depending on how much they need.
Observe the property at different times of the year to fully assess the conditions of the place.
3. Not preparing enough capital to purchase the necessary tools and equipment for homesteading
One of the biggest homesteading mistakes to avoid is the lack of necessary gardening tools to basically survive. It requires a bit more capital for you to invest in, as the goal primarily is to live independently. In order to ease your way into living a more sustainable way of life, you have got to arm yourself with the right equipment to be able to build things, grow your own food, and raise your own animals instead of asking your neighbors constantly for help. The hardware, supplies, and equipment for an off-grid living may cost a lot, but it is one of the best investments you'll have to make homesteading easier for you.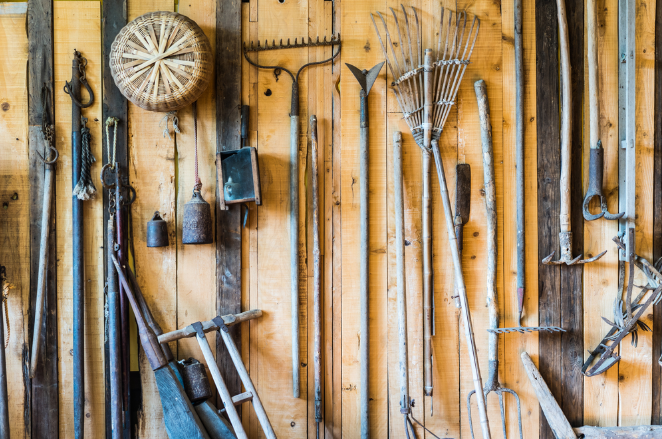 Equip yourself with the tools you need so homesteading will be easier for you.
4. Not researching the plants and animals that you actually need
Buying animals or seedlings only because they're cute and on trend is very impractical and is only appropriate in fantasy books.
Every effort and time you have should be for something that can benefit you in the long term. After checking the bylaws on what animals, as well as appropriate plants and trees, are allowed in that area, plan your actions properly before bringing them home. Build an animal shelter prior to getting an animal or prepare a functional hydroponic system if you plan to give this gardening method a try.
Most owners are too excited to buy their livestock but come home just creating a makeshift shelter for them and that is definitely one of the biggest homesteading mistakes to avoid.
Choose the right livestock and be sure to feed them and take care of them.
5. Not being mentally prepared or adaptive
Homesteading is more than just a physical process, it is also psychological. You need to set your expectations properly on what you are currently capable of handling and what is expected of you. It is always better to try homesteading in urban areas first prior to living off-grid in some cabin in the
woods.
A survey shows that the mindset and expectations of urban homesteaders are different from those who are living in the middle of nowhere. You need to assess yourself just how far from civilization you want to be and if you are absolutely ready for it. Another one of the homesteading mistakes to avoid is overestimating your abilities, only to find out that you have been spreading yourself too thinly and can no longer appreciate the grit and hard work necessary for homesteading.
The knowledge you have gathered regarding the land and climate conditions, the laws governing that area, the things you need to equip yourself with, the flora and fauna that you need, all these will help you plan your strategy to make homesteading as comfortable as possible for you and your family.
You have to be hands-on at everything you do in a homestead.
Homesteading may be extremely challenging, but the rewards are priceless. Imagine pushing yourself to new limits. After all the hardships you had to go through, you see yourself sitting at your front porch basking in the wonders of nature day after day, or simply pat yourself at the back for finally achieving freedom from all the rat race around you.
At the end of it all, you will gain so much knowledge from this experience and much more appreciation for the beauty of nature and its bountiful gifts.