Instead of saving up for months to go on a resort-style vacation for just a few days to Costa Rica, Hawaii, or Barbados, you could use that same amount of money (about $10K) to buy land and build your very own tiny house–sustainably!
Oh sure, but that tiny house is going to be pretty simple and modest, you say..  Maybe even…an eyesore?
Well, feast your eyes on this interior designer's take on a gorgeous tiny home! Her self-bult tropical paradise looks unassuming from the outside–but inside, it's straight outta the pages of Architectural Digest.
Building your own home from found and upcycled materials is one of the most gratifying things you can do.
It's not going to be as easy as hiring a contractor, but for those who are willing to put their muscles where their mind's at, you can build a home that will be beautiful and eco-friendly as well. 
So, where do you find building materials for free or cheap?
One of the curses of modern life is the disposable-stuff mentality. So many things are created and used for just a short while, only to be discarded when the next trend happens. Things are no longer built to be repaired, but replaced.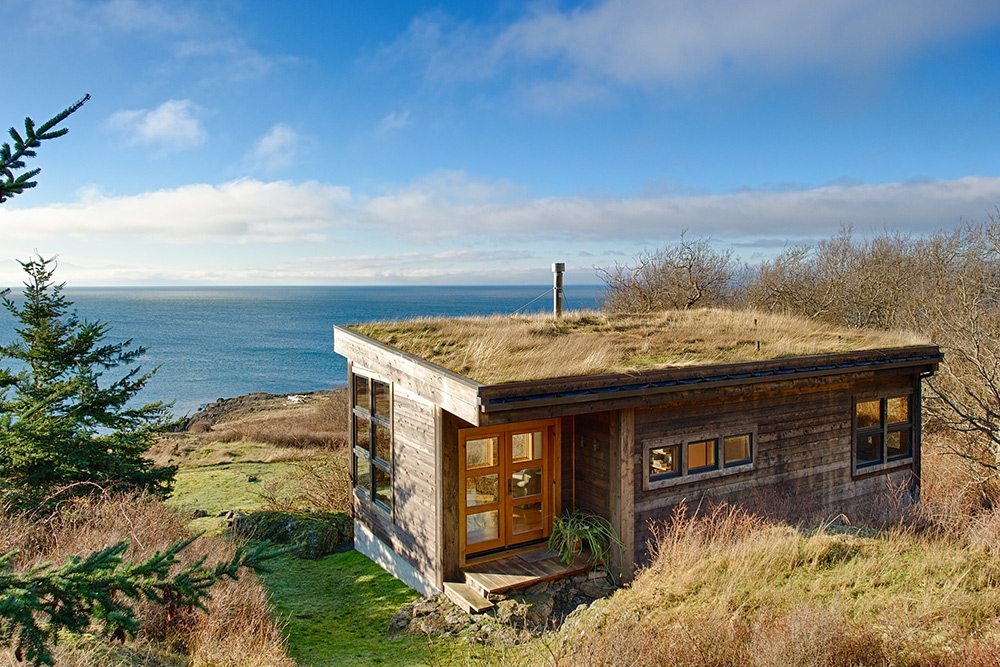 Permaculture thinking teaches us to always look for the solutions within the problems themselves.
We can use this disposable mindset to our advantage when it comes to sourcing building materials! Search your local Craigslist for people getting rid of things like scrap wood from fences or pallets, bathtubs, sinks, tiles, extra bricks, and even windowpanes. Very often, you can find things in great condition that people simply have no use for.
If you have a pickup truck, the dedication to browse the free stuff ads several times a week, and room to stockpile your treasures, you can find loads of materials for building a home this way!
What if TINY building isn't really your thing?
Michael Reynolds, the creator of Earthship Biotecture, takes the concept of minimal green building to another level. Since the 1970's, he's built incredibly beautiful homes all over the world out of literal garbage: Old rubber tires, plastic and glass bottles, and beer/soda cans are the building blocks of his unique and gorgeous homes.
Earthship Biotecture offers internships for those who want to learn how to build in this style, and you can go visit or stay in their model homes in Taos, New Mexico.
Other options for gorgeous sustainable building include rock walls, tilt-up frames, and straw bale construction. Living Homes author Thomas J. Elpel singlehandedly built his own amazing two-story stone masonry home for under $20K–and he shares how you can do the same on his website, DirtCheapBuilder.com. 
Elpel discusses the pros and cons of a wide range of building techniques–to include straw bale construction, dome homes, cob building, log and stone masonry, papercrete, rammed earth, and even retrofitting–all with the focus on getting your personal needs met in the least expensive way.
Building a sustainable and beautiful home shouldn't be reserved for those who are willing to commit the greater part of their lives to the 40+ hour working grind. Learn how to get your hands dirty and create your own personal paradise of a home – for cheap!