I've lived in Mexico for three years but have yet to celebrate my favorite holiday known as Dia de los Muertos, or Day of the Dead.
When I moved here I came with a life partner who passed away through tragic means this past February so I decided long ago I would participate. If there was absolutely anything to the lore of "your families spirits return to you" I wanted to be there.
So I did some research and determined the best place to celebrate in Mexico is a little town in Michoacan called Patzcuaro. It's a touristy little place at this point but very old and quaint and where so many people flock to every year, from all over Mexico and all over the world. I myself had to drive for a day or so to get close by. If you ever decide to go, book your trip months in advance or suffer having to pay extremely high prices for lodging. I lived in Acapulco for three years which would get the same way during Christmas as this part of the country does during Dia de los Muertos.
The dates of Dia de los Muertos are technically from the 31st to the 2nd.
People believe the gates of heaven open at midnight on the 31st for "dia de las innocents" or the day when lost children return home to their families on the first of November. On the second is the day when the adults return, which will be the day I celebrate the most.
This originated more than 3000 years ago as a blend of mesoamerican ritual, European religious influence and some Spanish culture too.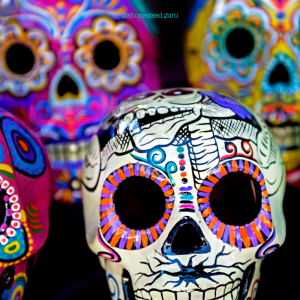 The Aztecs already celebrated something similar in August, but when the Spanish came that ended up happening in the fall because that is when the Spanish celebrate their dead in similar fashion. The Aztecs saw death as an unavoidable integral part of life and chose to respect it, something I've always respected even if I'm not sure the spirits actually return. What I am sure of is it's a beautiful way to keep your loved ones alive when they're gone. It's more for the living than for the dead.
When the Spanish came they brought their own tweaks to the tradition as well as bubonic plague which definitely deepened the local respect for death. In medieval Spain they would take wine and what was called spirit bread to graves of loved ones, often with the flowers. It was believed that when people die they go to a place called Chicuhamictlan or "land of the dead". There they would face 9 challenging levels that would take several years until they reached the "final resting place". This ceremony is meant to help facilitate that.
The most common symbols associated with this holiday are skeletons or skulls. The famous woman skeleton figure that is most common now was developed in the 19th century by Jose Guadalupe Posada when he reinvisioned a view of Micetacacihuatl, the goddess of the underworld. He made he a pretty skeleton sculpture known wide as La Cavalera Catrina. Now people dress up in the likeness to help celebrate the holiday.
To celebrate is simple.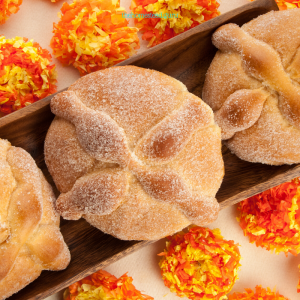 Gather photos of your loved one, cempasuchil (marigold) flowers, candles and food and drink offerings. Use these to make an altar either at the grave or your home. The flowers are meant to lead the spirits home and some people line sidewalks and more with them to ensure the return of the spirit. Candles are lit to signify a light still burning, that is the soul. Offerings of favorite food and drink of the deceased is given at the altar so they have something to consume when they return. Some people eat these offerings, many just leave them to the end of the holiday and discard them.
It's suggested to play music, either traditional Mexican music or whatever the person you're celebrating loved most. The whole goal is to feast, be happy and celebrate both the life and death of people you love. It reminds me of how funerals are done in rural areas here, which are basically a 9 day community party with offerings for the family of the deceased and more. The respect for death here is huge, year round. When my partner died I had at least 5 locals tell me they had a candle lit in their family shrine for him. I'm not religious but it still meant a hell of a lot then.
I know I'll be celebrating with the locals but even if you can't make it you can still welcome your family if you like. At the very least it'll be therapeutic for you and that's all that matters.