Valentines Day is a great time to get crafty with your loved ones!
This DIY valentine walnut heart necklace is simple and fun to make and is sure to warm the heart of anyone that receives it.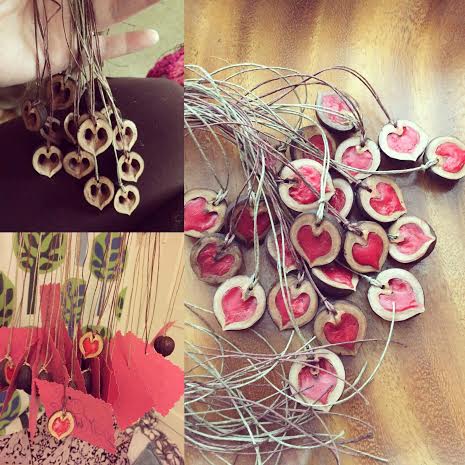 DIY Valentine Walnut Heart
Follow these steps to make your special valentine a beautiful necklace that is homemade and straight from the heart. 
Step 1. Collect walnuts from near your home or pick some up at your local grocer.
Step 2.  Briefly bake walnuts at low temperature to make it easier to crack them open without breaking the inside.
Step 3.  Gently crack the walnut open and slowly split it in half.
Step 4. Carefully dig out the walnut meat.
Step 5. Fill the heart-shaped hole with red beeswax clay.
Step 6. Drill a hole in the top of the walnut and thread hemp-wick through the hole.  Tie it off at a reasonable length.
And there you have it, a Do It Yourself Valentines necklace for that special someone.
Happy walnut hunting!
More from the Homestead Guru: How to Build a Pallet Garden in Three Simple Steps
Also, check out this DIY Valentine mobile idea:
They cut out heart papers, cut out heart images from magazine pages (you could use real photographs), and hung them from a stick with ribbon (try twine for a more natural look!).