About a month ago, my son and I spent 10 days pet-sitting on a homestead in CT.  We had an amazing time and gained so much homesteading experience, as well as how to care for livestock.  Our usual gigs consist of watching cats and dogs, so this was quite the experience! My son enjoyed caring for the pony, goat, lizard, dog, cat, and bird, but LOVED his experience with the chickens.  Every morning he would wake up and immediately go out to the coop to check for eggs. He repeated that multiple times each day.  With 15 chickens, we had an abundance of eggs, which required us to get creative with recipes.
Here are some of the recipes that we found for using up an excess amount of eggs!
Easy Quiche Recipe  How can you go wrong with a simple, make-ahead meal.  I like making these the night before Easter and having an easy brunch in the morning.
Brie Quiche I love brie and find any excuse to add it to recipes.
10 Minute Egg Drop Soup Are you a fan of soup?  I love to find interesting soup recipes to expand our menus.
Spaghetti with Butter, Egg, and Cheese Yum.  This reminds me of my sister's famous Spaghetti Carbonara.  
Easy Egg Salad with Dill  Add dill and cucumber for a delicious twist on an old classic.
Easy One Pot Spicy Egg and Potatoes This looks amazing and so spicy!
Easy Eggs in Purgatory  Have you ever made eggs in purgatory?  I had never heard of it until recently!
Mexican Style Egg Salad This has all of my favorite ingredients, it has to be good!
Red Pepper and Easy Eggs Galette This looks simple and stress free.
Scotch Eggs  We actually never got to this recipe.  Have you ever had Scotch Eggs?
Punjabi Egg Curry  You can't go wrong with a curry recipe!
Sweet and Sour Lentil Shakshura I love eggs and lentils, so this is one of my favorites.
Southwest Style Shakshura  Add avocado to the above and you have a recipe made in heaven.
Hopefully you find some new, interesting recipes to try with all of those eggs!  Comment below with any of your favorite recipes!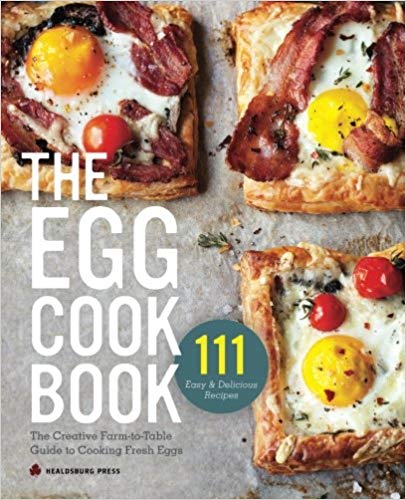 Get The Egg Cook Book here on Amazon!