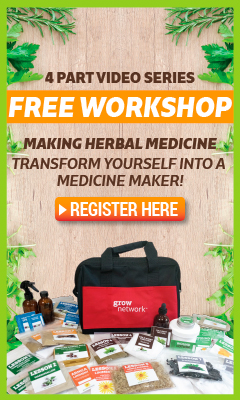 Are you frustrated with the medical system?
Do you believe it is too expensive and often does more harm than good?
Would you like to start taking your health into your own hands, like your grandparents and all your other ancestors did?
If so, I have great news!
My good friend, Marjory Wildcraft, is offering a free, 4-part video series to help you transform from relying on drugstores and doctors, to becoming your own Medicine Woman or Medicine Man.
 Register for the whole inspiring series here.
Confidently Heal the 12 Most Common Ailments
The goal of this free series on home medicine is simple:
To start you on the path toward making your own medicine, so you can confidently heal the 12 most common ailments that any family deals with.
In the first video, Marjory discusses the 3 major reasons why you should AVOID the existing medical system(especially pay attention to the section where she talks about the problems with medical mistakes – that's scary…).
Marjory will also show you how to take the first steps toward becoming your own Medicine Woman or Medicine Man, including:
•  Of all the different methods of home medicine, which one you should focus on first
•  How to make sure your own medicine is always available, no matter what the situation (including grid-down, worst-case scenarios when most medicines will disappear)
•  The system of home medicine that's SO EFFECTIVE it has withstood the test of time (more than 5,000 years!)
And that's just Part 1!
FREE Series Available for Only a Few Days
Every 1 of the 4 videos is PACKED with useful, life-changing, empowering wisdom.
But you do have to act now because this series is only available for a few days!
Watch it all here. I think you'll be glad you did.