Are you looking for gift wrap alternatives? Me, too.
One of the sillier things we do as humans is buying pretty-colored paper, just to throw it away.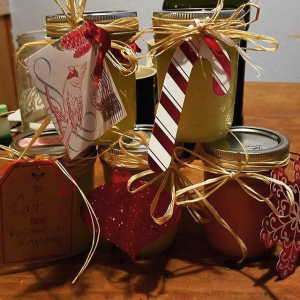 Gift wrap is something I usually skip, for so many reasons.
It costs money, and I'd rather not do that
It's made from trees, and printed with toxic colored inks that are full of heavy metals.
To use it, you need tape (more waste that's getting thrown away).
Don't forget the gift bows and ribbons–which also cost money, and don't biodegrade either.
Besides, there's loads of ways to wrap up gifts in ways that don't require you to fill up your trash can (or start a mini-bonfire in your fireplace and risk passing out from the acrid smell).
It's time to let go of the Hallmark-idea that only "real" (i.e: commercially profitable) gift wrappings show you care….so here's some practical gift wrap alternatives:
Reusing Newsprint or Magazines
Okay, not so many folks get the newspaper delivered anymore, but you might buy magazines here and there or have seed catalogs mailed. Maybe the spare pages will even get re-read by the gift recipient after they open their presents.
Plain Brown Paper or Butcher Paper
Often, you can use butcher paper you've already got on hand to wrap presents. You can turn the wrappings over to your kids for decorating with pens, crayons, and markers, or try your own hand at some inked designs, too. Grandparents especially appreciate gifts wrapped up in their grandchild's custom artwork.
Calendar Pages 
It's December now. You won't need that thing anymore–but the art or photos are lovely, so why not reuse it? This is another option that works best for smaller gifts.
"Re-Gifted" Gift Bags
We all get gift bags sometimes. I save mine and re-use them! Sometimes I even make a point to give a gift to someone IN the same bag they gave me–and we just keep swapping the bag every holiday! It's fun.
Reusable Shopping Bags
These are usually a dollar a piece, and useful already, so really you're giving two gifts instead of one. Edible presents especially lend themselves to being wrapped in a reusable grocery store bag. To wrap, just tie the handles.
Baskets
Baskets large and small can be reused and are nice to have around–so why not wrap gifts in them. You can tuck a cloth, towel, or baby blanket into the sides of the basket to cover up what's inside. Bonus: You'll look like Red Riding Hood when you deliver your basket of goodies!
Mason Jars
Mason jar gifts might be country-cliche, but they're great to re-use again and again. I mix up everything from garden amendments to makeup to salad dressing in mason jars–and yes, they're great drinking glasses too. Tie a bit of ribbon around the lid and you're done.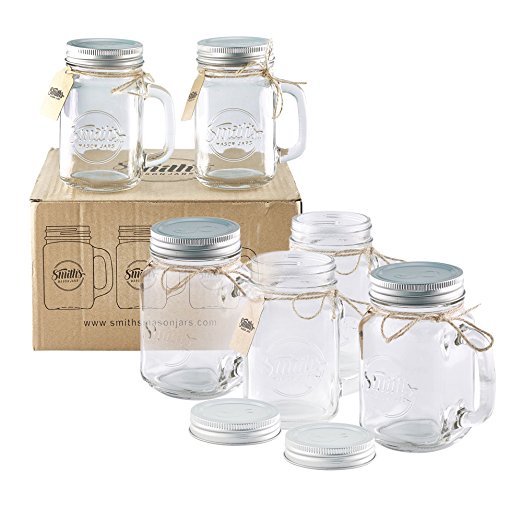 Get these mason jars here on Amazon!
Feed Sacks
If you've got farm animals, their feed sacks may be made out of something you can turn into gift wrapping! Just make sure your gifts don't end up dusted in barley or oats.
Towels, Scarves, or Baby Blankets
Any type of cloth or scraps of fabric lends itself well to being tied into gift wrapping. Grandma's silk scarves work especially well for this–and also for…
Furoshiki!
An ancient Japanese art of…gift wrapping? You'd be correct.
Sew Some Cloth Gift Bags
If you really want to get crafty, you can go to a fabric store and pick out some holiday themed fabrics to sew your own gift bags. I did this many years ago, and my family uses these pillowcase-like bags every year. I didn't even use a pattern–just eyeballed the dimensions, cut, and ran them through the sewing machine. To close them off, I just tie them off with yarn.
Finally–perhaps the easiest idea of all, is to skip the wrapping entirely and just say, "Hey, I'd like to give you this gift." Not always practical–but still a viable option.
Are you facing a gift-wrapping frenzy this week? What's your favorite idea on this list?