Everyone, I've finally found the ultimate fast and easy way to prepare flan, so long as one has an instant pot or pressure cooker. I just used the same recipe I've used in the past, adapting it for the processes for online articles I found on how to do this in the instant pot. Some of them really weren't clear on the directions, so I figured it was worth posting my own version. What resulted was the smoothest flan I've ever tasted, so good I'll probably make another one today.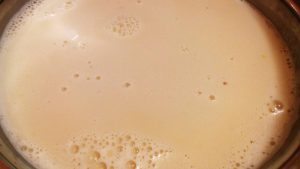 What You Need:
Instant Pot
Get an Instant Pot here on Amazon!
Vessel for Flan
1 can evaporated milk
1 can sweetened condensed milk
1 tsp vanilla
4 eggs
It's super easy to make, starting with a few tablespoons of cajeta in the bottom of whatever you're making the flan is. What you use isn't really important so long as it easily fits in the instant pot. I just used a small metal bowl.
I used the immersion blender to combine the rest of the ingredients, which I poured over the cajeta. I set the instant pot on for 10 minutes with a ten minute natural release.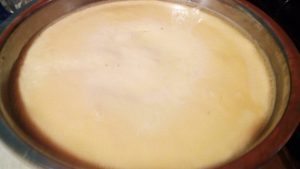 It would seem that those ten minutes were not enough for my super thick flan, so I put it in for another ten. Most cake pans will take about ten minutes, if you've got a small bundt even better. The thicker it is, the longer it'll take, but it shouldn't take more than 20 minutes.
It looked like this while it was done. Allow it to cool, then chill for a few hours before serving.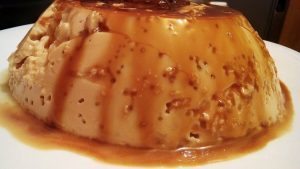 This was hands down the richest, best flan I've had. There was no curdy egg texture, that flan sometimes can get. It was the closest to texture to a cheese cake that I've experienced, which makes me understand why it's called the Mexican cheesecake. So give it a try if you've got an instant pot, and if you don't, you should get one!
Anyway, thanks for reading and supporting us, happy cooking!
If you're interested in more like this or in following our story on my blog, here's the link for my Steemit, which is where all of my content currently is.