Modern medical science relies heavily on pharmaceuticals to treat patients. In fact, the use of medicinal plants has become taboo and is often labeled (incorrectly) as pseudo-science.
There was a time in American history when big-Pharma did not have such an influence on doctors, pharmacists, or medicine. During this time, pharmacists actually prepared medicinal plants for people in need to treatment.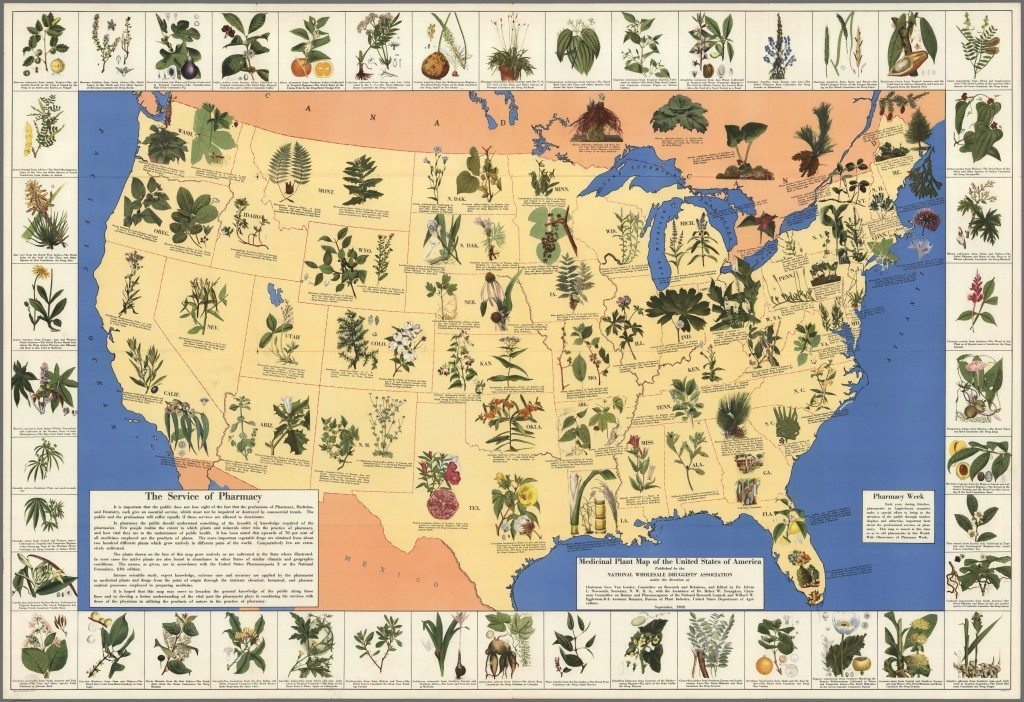 This recently uncovered medicinal plant map was printed by the National Wholesale Druggists' Association over 80 years ago. It was intended to boost the image of the profession during a promotional campaign called Pharmacy Week.
The medicinal map shows which herbs grow in which state (or as they grew in 1932). It also lists the medicinal uses of each plant.
In the late 1930s and through the 1940s, a rise in synthetically produced and mass marketed drugs began to hit the market. This marked a transition from pharmacists physically preparing medicines to pharmacists counting out pre-made medicines.
This poster show the end of an era, before the profession made the shift to dispensing drugs produced by large corporation and away from preparing plants for those in need of their medicinal properties.
Amazon also has a more modern map available, World Map of Medicine Plants.
Have you ever tried natural remedies at home? Have you ever wild harvested medicine? It is in everyone's interest to know as much about this as possible! We hope you enjoyed learning about this map of medicinal plants – please continue reading about natural medicines if you find this topic to be of interest:
Scientists Have Found Over 28,000 Plants Beat Diseases Like Cancer and Diabetes
Neem: Your Secret Weapon Against Plant-Eating Garden Bugs + Many Health Benefits
Honey is Medicine! Don't just eat it!