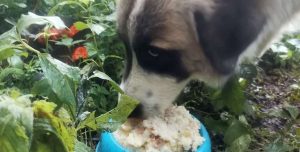 There's a recall on dog food on the US and its posing as another reason why you should start making DIY dog food! Sunshine Mills sent out a recall Thursday in regard to a high level of aflatoxin.
What is aflatoxin?
It's a natural byproduct of the growth of Aspergillus flavus. It's posing a potential health risk to dogs who consume certain products that have tested for these high levels.

Which products should I watch out for?
FAMILY PET Meaty Cuts 4lb/14lb/28lb
Beef Chicken and Cheese Flavors
Heartland Farms Grilled Favorites
Happy Life Butchers Choice 16lb
Where are these recalled products sold?
Dollar General and Family Dollar
DIY Dog Food Versatile Recipe
Dogs evolved with humans partially eating our waste products.
I save the waste products of my food in the freezer until it's time to make dog food. This includes bones from meat because I use the pressure cooker to cook them until they pulverize. At that point not only are they safe to eat but extremely healthy for a dog of any age.
DIY Dog Food Recipe
Note: This will change based on what you have and what your dog digests best. Some dogs do better on all meat, raw diets.
Some do better with cooked meat and unprocessed simple carbs. Pay attention to your dog and their tastes. Also if your budget doesn't allow for all meat diets, that doesn't mean you're a bad dog owner. Anything you make at home will be healthier than food in bags bought from the store.
This recipe is one I make for a St. Bernard and Great Pyrenees Mix, so a large breed doggo.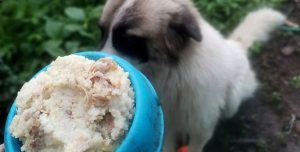 Ingredients for DIY Dog Food recipe:
Chicken/Beef Bones
Leftovers, no onion. (Small amounts of heavily cooked onion added as leftovers into the mix will likely be fine, but pay attention)
Beef fat, and cellulose from rendering beef fat
Rice or Oats
Raw eggs
Leftover tortillas
Method for DIY dog food recipe:
The only part that's really important is if you use bones. They need to be either raw or cooked to where they pulverize when you squeeze them with your hands. It takes about 2 hours in the Instant pot on high pressure for chicken bones, 4-6 hours for beef bones. It's worth the extra effort because it makes use of a product you definitely won't use and your dog will go INSANE for it.
When I make beef tallow I'm left with these crispy bits of cellulose. I add these to the final pot because animal fat is great for a beautiful coat.
Usually, my process is to cook the bones and meat scraps for hours until they're ready in the instant pot. Then I get a large pot, add rice, tortillas, fat any leftovers. Then add the bones and broth. Add a bit of water until the pot is full. I usually use a kilo of rice at a time for the size of the pot I use.
Heat on low until its boiling then turns off and allow to cool.
How to store DIY dog food recipes?
Put in containers into the fridge or the freezer if you have space.
How to transition to homemade dog food
Looking for more information about the recall? Check this out!