What is a yule prosperity candle and why do you need to make some this holiday season?
This is a yule pagan tradition that involves making candles for the celebration of the end of the year in pagan disciplines, that is yule.   This is a great thing to make even for those who don't celebrate these things. I've heard about Yule my whole life but this is the first time I thought to actually give it a go, and this year I'm going all out. This is the first of what should be MANY yule posts this month, stay tuned.
A Note on Christmas, Yule and Celebrating the Holidays
It's been easily 10 years since I really celebrated really any holidays other than maybe 4/20. This last year has likely been my most spiritual to date as I started to have an awakening of sorts within me. I started dabbling in paganistic rituals and I've found that there's actually a lot of therapeutic value on those.
Enter the Yule Prosperity Candle
So it's only natural that I extend this to fully immerse myself in yule traditions this year. Truth is while I don't necessarily adhere to the Christian values behind Christmas, I have somewhat missed the tradition of celebrating every year. Last year I celebrated Christmas in rural Mexico which is honestly a blend of pagan and Catholic traditions.
This is a variation as far as I'm concerned of witch candles, something I've dabbled with but not yet posted. You basically alter a candle by adding spices, herbs, oil, rocks and more with intention. Burn those candles for everything from protection to money. I keep one on my desk while I work to help keep me focused on the hustle.
Bringing Luck with the Yule Prosperity Candle
This is the yule Christmas tradition, apparently burning these will bring you good luck and prosperity in the years to come. At the very least, its a beautiful way to use up orange peels and end the dumpster fire that has been 2020.
For more information on yule traditions check out this book!
Ingredients:
Oranges
Candle Wax
Wicks
Spices (Cloves, Cinnamon, Whole Peppercorn, Salt)
Gold Glitter
Change, I used Mexican pesos
Double boiler to melt the wax
Instructions for the Yule Prosperity Candle:
The method is simple. Start by melting the wax in a double boiler. I bought these candles without containers they sell literally everywhere in Mexico. They're so cheap they're nearly free and they have a removable wick so you can do whatever with the wax.
If you're interested in using only high quality waxes and ingredients, get you some beeswax. It'll be expensive but it's the more natural choice.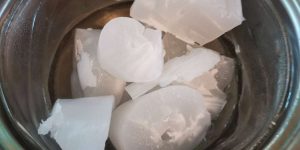 While the wax melts, cut open oranges in half. Go for as large of oranges as you can manage. I cut them in half, scooped out the inside leaving only the rind. Make sure you get it as clean as possible. Try to avoid getting holes in the bottom of the halves. It's not the end of the world if you do just know eventually all that wax is gonna run right out the bottom of it. I thought I was clever by feeding the wick through the bottom of the orange, the mess on my desk said otherwise.
If you do end up with a hole, just make sure you put a plate or bowl under to catch the runoff.
Set the wick in the center, you can get creative for the wick just make sure it burns easily and stands up straight for long enough for the wax to solidify.
At this point add whole cloves, cinnamon stick, peppercorns and nutmeg. These have pagan value for prosperity, clarity and focus. Also add gold glitter here if you'd like, to symbolize the obvious.
When the wax is melted, add any oil that you have for scent to it to your preferences. Cinnamon is a good one for this, so is orange or pine.
Pour the wax into the orange halves and allow to mostly solidify. If you use glitter add a bit extra here for extra shine. When the wax is sturdy but still pliable, imbed some coins and cloves into the surface to decorate.
Enjoy immediately!!
Here's the Pin that inspired this post!
Check out this post from Lily last year about the Monarch Butterfly Migration!