This article was co-authored by Catherine Bleish and Elizabeth Klebart.
Are tomatoes coming out of your ears, yet?   Personally, I (Elizabeth) like to slice them like apples and sprinkle with sea salt and pepper.  But if you're feeling more adventurous, there are plenty of delicious, seasonal recipes to use up all of those wonderful tomatoes.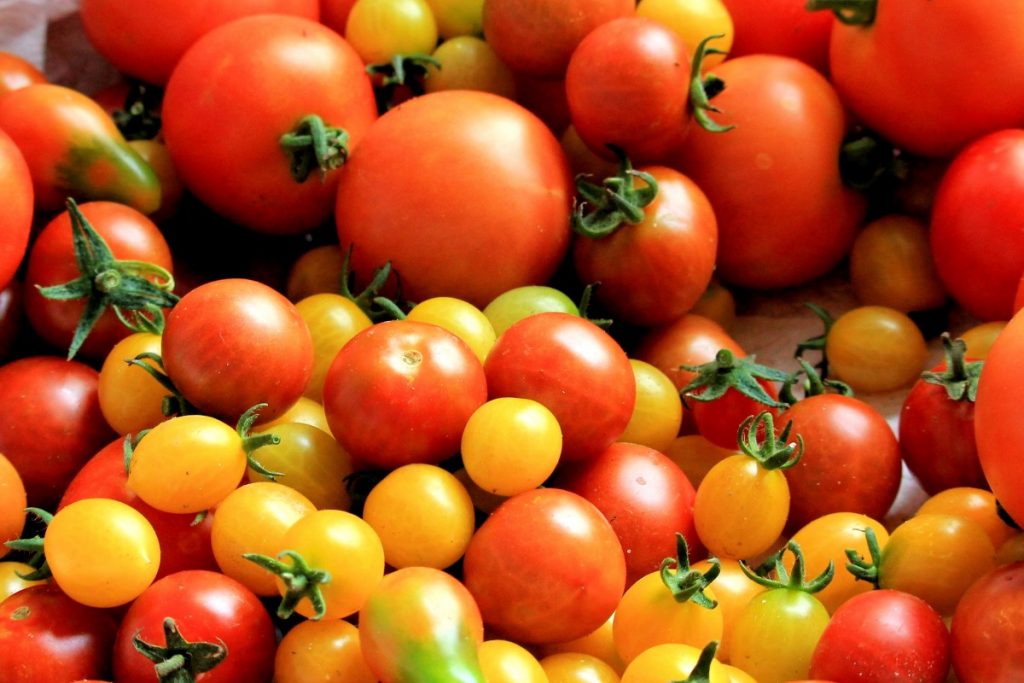 Tomatoes have so many health benefits, such as promoting heart health, reduces hair issues, improves vision, wards off cancer, improves bone health, lowers blood sugar, aids in weight loss, promotes sound sleep, and reduces chronic pain.
I (Elizabeth) personally love tomatoes, whether they are cooked or raw.  They are delicious in salads, on pizza, as a fresh ingredient in pasta sauce. There are uses for tomatoes in all stages of life – lets start with the rotten tomatoes, then green, then all that abundant red!
We love tomatoes here at the Homestead Guru. The entire cycle of life. Did you know you can use rotting tomatoes from your garden? That's right, they aren't what you will eat this year, they are the seeds for the tomatoes you will eat next year. You can actually replant rotten tomatoes to grow plants for next season. The process of decay actually sends the seeds into their natural germination process!
If you have gardened for any number of seasons, you will have this happen to you – a cold snap hits before our tomatoes have been able to fully ripen – what choices do we have?
First choice – Harvest those tomatoes and ripen them inside. If you want to know how to do that, click here to read about extending your growing season by ripening your end of fall tomatoes inside during your first frost.
Your second choice is to eat them green!
Get the amazing book here on Amazon!
I personally (Catherine) like to saute green tomatoes and then cook them with scrambled eggs. If you are looking for the more traditional fried green tomatoes recipe – check this one out:
Fried Green Tomatoes
Ingredients
4 Green Tomatoes
2 eggs
1/2 Cup Milk
1 Cup of Flour
1/2 Cup Cornmeal
1/2 Cup Breadcrumbs
2 teaspoons of sea or Himalayan salt
1/4 teaspoon of black pepper
1 quart of oil for frying (I suggest olive oil)
Instructions
Slice 4 green tomatoes into 1/4 inch slices
Whisk Eggs and Milk Together
Dump flour onto a plate
Mix cornmeal, breadcrumbs, salt and pepper onto a second plate
Dip tomatoes in flour to start
Dip the tomatoes into the milk/egg combo
Dip the tomatoes into the breadcrumb combo, ensure fruit is completely covered
Fry the slices in olive oil, flip when browned
Soak excess oil off on paper towels
Eat and ENJOY!
Here are some of my (Elizabeth's) favorite recipes that will utilize all of those delicious tomatoes from your garden:
Do you need a special ingredient for your grilled meat or something unique for an appetizer? Try this simple recipe:  
Serves 8    ADJUST SERVINGS
Ingredients
(We suggest you seek all organic ingredients)
3 1/2 

pounds fresh garden tomatoes, chopped

1 

medium white onion, diced

1/2 

cup brown sugar (or substitute honey, agave, or maple syrup)

1 

cup granulated sugar (or substitute honey, agave, or maple syrup)

1 

teaspoon sea or Himalayan salt

1/2 

teaspoon coriander

1/4 

teaspoon cumin

1/4 

cup apple cider vinegar

3 

tablespoons freshly squeezed lemon juice
Instructions
In a dutch oven (cast iron preferred), combine all ingredients
Bring the mixture to a boil, then reduce the heat to low
Simmer for 3 to 3.5 hours, until the mixture has thicken and become the consistency of jam.
Move your jam into individual jars to store short term in the fridge, or can them in a hot water bath for a longer shelf life.
Recipe inspired by www.garnishwithlemon.com
________________________________________________
Do you want to make soup and freeze for the colder months?  How about trying out Fresh Tomato, Zucchini, Italian Sausage Soup  by www.afamilyfeast.com
Zucchini Tomato Italian Sausage Soup
8 to 10 Servings
Description
This hearty soup should hit the spot on a cold winter day. Note: Avoid over cooking the zucchini once it has been added to the pot. The end result should be a tender squash.
Ingredients
(We suggest you seek all organic ingredients)
1 tablespoon extra-virgin olive oil (substitute avocado oil)
1 pound Italian sweet sausage, removed from casings
2 cups white onion, diced
1 cup celery, diced
1 cup carrots, diced
2 cups red bell pepper, diced (about one large pepper)
2 tablespoons fresh garlic, minced
Pinch red pepper flakes
¼ cup tomato paste
5 fresh plum tomatoes, diced
2 pounds zucchini cut into bite-sized pieces
1 teaspoon sea or hymalean salt
½ teaspoon freshly ground black pepper
2 quarts good quality vegetable broth
1 cup coarsely grated Parmesan cheese, plus more for serving
A few Parmesan cheese rinds (optional but recommended)
2 tablespoons fresh basil chopped
1 tablespoon fresh oregano chopped
Instructions
Start with a large soup pot or dutch oven (cast iron preferred). Place in olive oil and turn onto medium high heat. Once the oil is hot, add the meat, breaking it up as you cook.
The celery, carrots, bell pepper can be added once the meat has browned. Sautéd for four minutes.
Lower the heat to medium and move the veggies to the perimeter of the pot.
Add garlic, pepper flakes and tomato paste to center and cook for two minutes, stir occasionally.
Stir to combine tomatoes, zucchini, salt, pepper, broth, Parmesan cheese and Parmesan rinds along with fresh basil and fresh oregano.
Bring to a medium simmer and cook just long enough until the vegetables are tender, about 10-15 minutes.
Remove from heat and remove and discard the Parmesan rinds.
Serve immediately with Parmesan cheese grated on the side.
Which recipes sound good to you?  Feel free to post your favorite recipes in the comments!
More from the Guru: