Blogging Made Easy
Here at thehomestead.guru we have discovered some really great software that helps our blog run smooth. My personal favorite is CoSchedule. This software allows me to quickly choose which social media platforms to post each blog post. Its literally a click of the button to select where and when to share my blog!
Interactive Calendar
There is a full interactive calendar that allows me to see the upcoming and previous social media posting plan. When you manage over 70 Facebook pages and need to post blogs to each, this takes all the leg work out. Below you will find a screenshot from part of our trial. These are posts that were scheduled in a matter of seconds.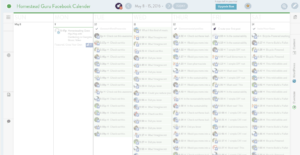 Honestly, you don't need to have a giant social media empire for CoSchedule to help you, the fact you can schedule one post to repost a week, month, or year later is phenomenal. Not only can you pre-schedule your posts as far out and with as many repetitions as you want, but you can click and drag your content to other positions on the calendar.
Best Time to Post
I love it that CoSchedule allows we me customize the posting style of each post. For example, on Facebook page I own and have full control of, I select "best time" as the time for CoSchedule to post the blog to Facebook. Then CoSchedule's robots decide the best time to make each post live, and they rearrange the calendar when you add new posts to the line up!
On Facebook pages that I share posting access with other people, I can select the exact time to post so I am not bumping into the posting slot of others. Literally the time I spend posting to social media has been reduced by 90% since I started using CoSchedule. It has also helped our traffic in really big ways!
Significant Revenue Increase
Check out this screenshot from our 2 week trial on CoSchedule. The dark blue line shows hour ad revenue increasing dramatically once we launch the trial, then dropping dramatically when the trial ended. The light blue line is our revenue the month before.
During the 2 week time period depicted above, the light blue line depicts revenue generated from posts manually posted to Facebook pages in April. This means one of the page admins had to manually copy the URL, go to each Facebook page, and pre-schedule a post. It was very labor intensive.
The dark blue line depicts revenue generated from posts automatically posted to Facebook pages by CoSchedule during the month of May. You can see when I started using the auto-post function and at the end you can see when our trial ran out and we were coasting on previous days' posts.
Highly Recomended
What blows my mind about that graphic is that our highest revenue in April is the equivalent of our lowest in May when the trial expired. This is a serious improvement and moral boost for our entire team. Our amazon affiliate revenue had its best month ever as well!
If you are interested in using CoSchedule on your blog, please use this affiliate link to support our website!