Video One
Leah Romero contacted me about a recording she was able to upload from the front line of the Standing Rock Conflict that took place 2 days ago.
Here is what I could understand from that video:
"We need to frighten the media out of here", "a bunch of wild people", "how do you like having all your stuff vandalized?", "Tell the guys in the black shirts to look at them", I got my arm band, I see you in the black shirt", "Come here huckleberry, meet me halfway?", "You gonna put on facebook how peaceful you are?", "Fall back Little Feather, fall back", asking for confirmation of how much media is around, LRAD going off. And finally, "everyone calm down keep your composure".
 Video 2:
Her second video also makes it sound like they have someone on the side of the Natives pretending to be an activist.
"We're all going to smoke peace pipe tonight", "Good Job", "Go home water protectors", "Say something on the radio again, I am looking in I know which one you are", "identify yourself", "who Cares", "coward",girls recording comment, "coward, he didn't want to point himself out" (said by girls recording).
"Say something on the radio again, I am looking in I know which one you are. identify yourself"
Unusual Behaviors
Derrick Broze said that night he felt he was watching deliberate saboteur when the vehicles were lit on fire. He was forced to delete footage.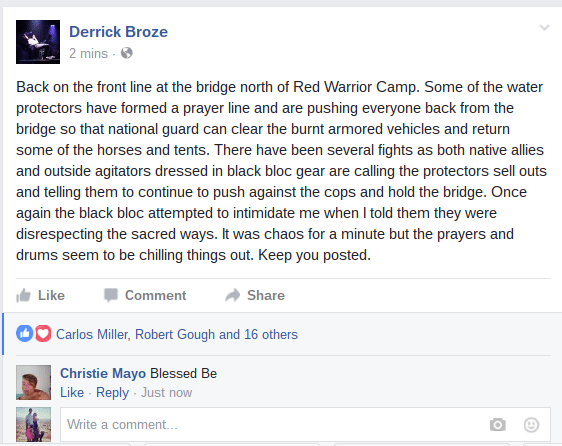 My personal opinion is that these were also paid saboteurs.
It seems a telecommunications jam has been put in place and we need eyes and ears on the ground ASAP.
Confirmation
Leah is almost home to Houston, she left with her family after rumors of all camps being arrested began to surface.
She also told me that the person they were talking to was a Dakota Pipeline Associate who was working security for the Water Protectors. Apparently they HAD been infiltrated, I repeat it appears THEY WERE INFILTRATED.
If there was one there were likely more. We must get to the bottom of this.
This is a free speech violation and a crime against humanity.
Further Confirmation
Here is a photo of the first infiltrator they caught driving past the baracade. This one was disguised as a water protector, brandishing a gun, and the car registration was the to Dakota Pipeline.
They (several reports from people on the ground) say he was chasing down a journalist to try and get his footage. This is the same day Derrick Broze was forced to delete footage, I assume of this group of men.
Myron Dewey also reports that some journalists have been charged with stalking. I am not sure who exactly, or what day those arrests took place.
Amnesty International is now monitoring the situation.
Video Update
Here is a video from Atsa E'sha Hoferer yesterday who posted 3 hours ago (10:30am central standard time) that they are OK and recovering.
He said yesterday was an intense day again, as far as he knows the officers wanted them off the brdige, but he is not sure what is rumor and what is truth.
They negotiated with the National Guard right before the law enforcement showed up in force to sweep the bridge. They were able to move off the bridge without attack and are recovering spiritually, mentally, and their bodies.
He said if anyone is coming from anywhere, come for prayers, not for wars. They are not there for any violence. Please everyone keep them in your prayers.
As far as he knows, no one was killed. No one had guns. Their horses did get shot, one of his videos shows it (check our youtube channel)
No known Human Deaths,

One Horse has Died.
One horse did get put down from injuries, he can confirm that.
A lot of people were shot with rubber bullets, by bean bags, by mace, by batons, one woman was hit by the same officer as before.

Another Video Update
This video was live streamed by Myron Dewey on facebook as he interviewed a Standing Rock Sioux Tribal Councilman about police violence.
Myron Dewey reported about 20 minutes ago (around 1:50pm central standard) that there are 10 people from the protest who have been allowed to go clear out the camp under police supervision – they are not allowing media or more than 10 people. Allegedly they have agreed to no arrests.
Second video from Myron Dewey, interviewing law enforcement about conditions of negotiating the camp clear out – no personal belonging, tipis, 3 trucks, is all that people can take. "instructions from sheriff, tipis to be removed, and also there are some medical supplies", "what about the sweat lodge, its ceremonial", "I will make a call about that". "Ok cause that's freedom of religion right there, those are sacred items". "Since you have been arrested and have been given an order to not enter by DAPL"
Myron asks about unmarked vehicles that are monitoring them, law enforcement claims to not know.
Update, Video from 4 hours ago (around 11am central time) of Myron Dewey taking tour of BIA barricade, before the camp clear outs began.
Myron Dewey gives a Morning Update this AM
Describes how their message is prayerful. Their elders were praying at the front of the line. Out of town agitators were trying to cause chaos. They are calling on people to come protect the prayerful elders. The ancestors had called to tell them it would rain today. They want harder rain. They are looking for people to come protect the elders.
A video was released last night about Dakota Access Pipeline person chasing a journalist who captured footage on a drone, the security guard chased them in their truck with a riffle, they tore apart a sweat lodge, and bullied people about the videos they had taken.
There have been several buses of people brought in to work on the pipeline, they live on "man camps" where lots of violence, drugs, and human trafficking goes through. They are going to focus today on not just the Dakota Access Pipeline but how they are in constant prayer even while being pushed down.
They need protection from infiltrators – you will know them because they are not focused on prayer.
He discusses how the government and power companies are ruining many tribal lands, its not just the oil pipeline.
Violence Depicted by Youth, View of Sacred Sites
Myron Dewey Interviews Student Council
*video uploading*
Here is an update about arrested (aka kidnappings) conducted, including people who were actively in prayer in a sweat lodge, ripped out by officers. Some who were hurt badly.
Some bails are at $1500, one does not have bail set.
She shows images of women maced over 5 times. She saw her sister being maced and ran to the front lines to help her, she asked the police and asked which one maced her, her sister identified the one, "he pulled down his mask and smirked at me".
Many were shot with bean bag guns and tear gas guns, including her brother.
Guns were pointed at the youth council from a helicopter who was evacuating to safer grounds. She is upset and emotional because they are making it harder and harder to contact those arrested and harder and harder to get them out.
I am updating this post actively so refresh it to see citations as I gather this information in one place. I am looking for live feeds only to keep the information as accurate and detailed as possible. Please make me aware of any inaccuracies!
DOWNLOAD AND SHARE THE VIDEO EVERYWHERE, DO NOT LET THIS DISAPPEAR! Watch all the videos on youtube that we have uploaded that document what is happening. Very little is getting out now.