One type of class that has been gaining popularity in the yoga community is doing yoga surrounded by animals. Some places hold animal yoga classes to promote adoption and some farms looped into the practice to make ends meet.
Doing yoga with goats is the latest craze and the town of Manchester has shut down one farm's practice, claiming they are in violation of zoning laws.
Every weekend, people travel from all over just to go to this Manchester farm to spend time with the goats.
Town officials said they are not following Board of Zoning regulations. The farm has been teaching yoga with goats for close to three months, but it was not until the end of July when the owners received a cease and desist letter in the mail notifying them goat yoga is a violation. The farm's cease and desist letter said goat yoga is not considered a farm activity because it does not have anything to do with farming or agri-tourism.
However, Tracy Longoria, owner of Aussakita Acres Farm, disagrees.
"Unfortunately, the Town of Manchester does not have a definition in their regulations of what farming or even what agriculture is," stated Tracy.
The letter also stated a zoning officer went to inspect the property, something Longoria said she is not too happy about since she never gave permission for that and was not home when it happened.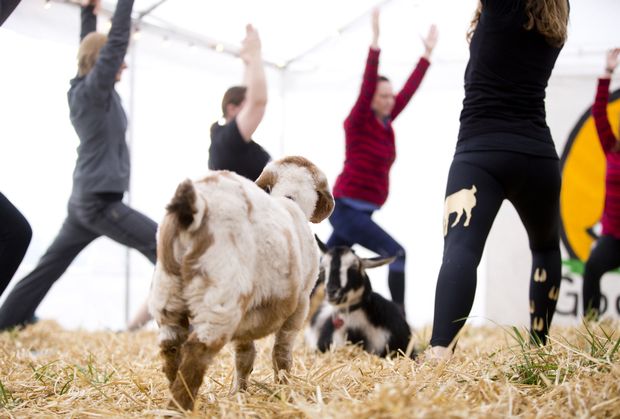 Scott Shanley, the general manager of Manchester, claims "They had about a hundred people there I understand. It's not zoned properly for health and recreation use, then it needs to be properly zoned or the use can't take place there."
Tracy Longoria, assures them there is only about 40 people each class.
"It's not a comment on her or what she's trying to do. It's a matter of where in town it is, how it's zoned," added Scott Shanley.
Scott also stated that in order for the farm to continue to have goat yoga, they will have to fill out the Board of Zoning appeals form where the farm can hold a hearing.
Get a 1/2-Inch Extra Thick Yoga and Exercise Mat with Carrying Strap here on Amazon!
The farm will be meeting with the town attorney and the mayor this week to discuss options of keeping goat yoga for the community.
This is yet another example of the state stepping on property owners freedom with unwarranted legal action. More people are choosing to live a more environmentally friendly life and will continue to build a life free from corporate choke-holds. Time will only tell if the state will continuously attempt to inhibit the growth or encourage self-sustainable lifestyles but for now their choice is clear.