Are you tired of buying dish sponges and body poufs all the time? Many people don't know how easy it is to grow your own luffa gourds.
Why not GROW your OWN sponges?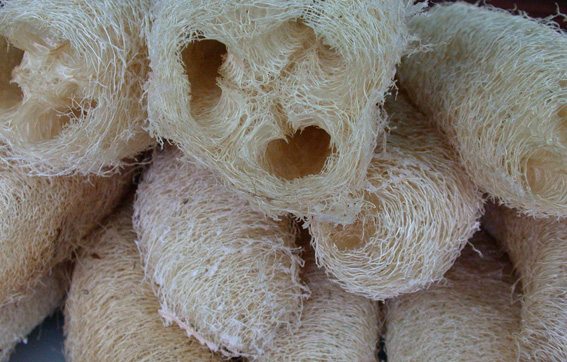 Luffa Gourds
The glorious sponges pictured above are actually a plant product–even though many people incorrectly think that these are an animal called the sea cucumber!
They are fantastic as both sponges and body scrubbers–quite luxurious, as a matter of fact!
Luffa gourds are related to the cucumber plant, and are just as simple to grow in your typical summer garden.
Get Gourd Luffa Seeds, Luffa Gourd Sponge seeds, 25 seeds, Organic , NON GMO here on Amazon!
You can start them from seed, and give them a trellis or wire structure to climb. They will take off without too much effort in most southern climates.
Luffa plants are a long season annual that will grow in zones 7 or warmer.
A few plants will give you all the sponges and scrubbers you'll need for a year or more!
Check out how garden-master Jake Mace grows his own sponges on his YouTube channel.
We are growing some luffa gourds in our own garden for the first time this season.
I'll let you know how they turn out!
Get Natural Loofah Exfoliating Bath Sponge by Spa Destinations here on Amazon!