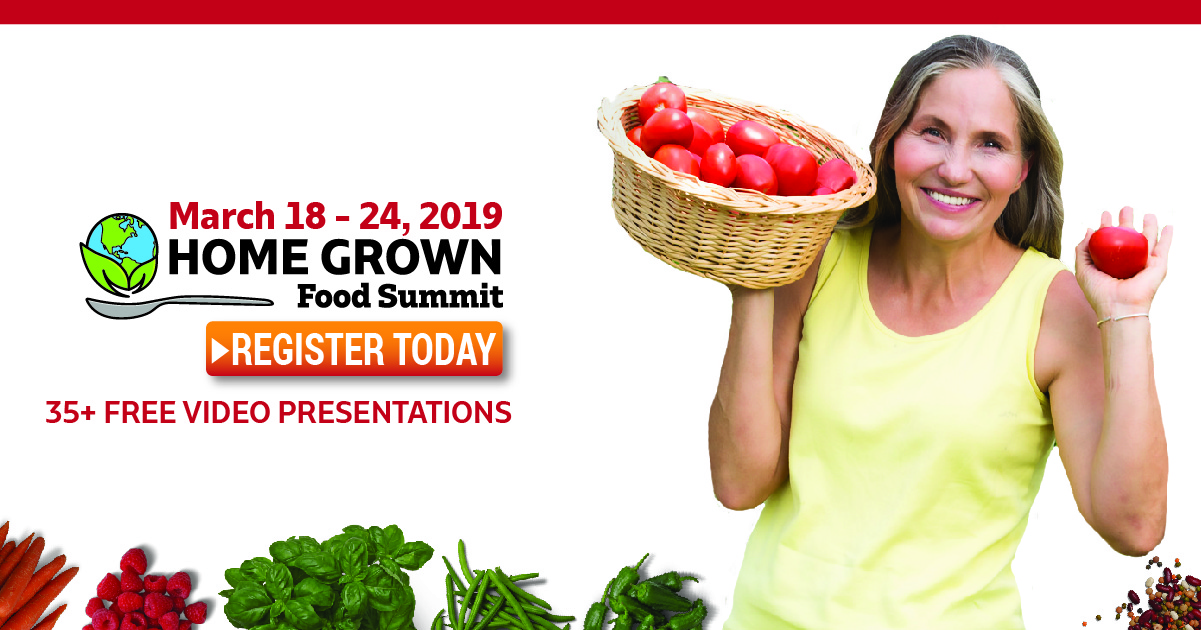 Great news …
… YES! Marjory Wildcraft is once again inviting the world to watch her Home Grown Food Summit for FREE.
She has lined up another 36 presentations to teach you how to sustainably grow all your own food and medicine.
No matter whether you're:
An urban dweller with limited space to grow on a city lot or small balcony.
Or a homesteader, with a large acreage.
She has once again recruited some of the BIGGEST NAMES in permaculture, natural health, and food sustainability…
(Like Dr. Kai Fu Lee, Stacey Murphy, Patrick Jones, Melissa Norris, Scott Sexton, Rick Sapio, Debra Neiman and Joel Salatin…and so many more.)
… To give presentations on topics that include:
AI and the Future of Food
3 Simple Strategies to Start Growing Vegetables and Herbs Indoors 
Kitchen Medicine: Amazing Herbal Remedies In Your Spice Drawer! 
Grow a Years Worth of Tomatoes: Tips to Increase Harvest & Combat Disease
Harvesting and Using Acorns: The 10 Minute Method
How to be a Midwife to Goats
And that's just to name a few!
It's going to be a very exciting week, and again it kicks off on Monday, March 18th at 9 a.m. CST.
Register to watch for FREE here.
However, if you're like me and you don't have 40+ hours to dedicate to watch this event around the clock next week… (Sure wish I could!!!)
… You should know that Marjory has just opened the doors to her annual event PRE-SALE!
You're invited to claim LIFETIME ACCESS to watch this entire event on your own schedule at a significant discount (… with access to digital recordings – online or shipped to your door).
Plus … Marjory is doing something NEW this year …
She's also holding A PRIZE DRAW.
For a total of 15 prizes you can win!
Personally, I'd love to win the Making Herbal Medicine Kit.
But there's also:
Lehman's Waist-High Raised Bed
½ case of Dry Farms Wine
Human Longevity Project's physical DVD set
High Mowing Seed's Cover Crops
Fluid Stance Standing Desk Accessory
… And so much more!
Again, you're not obligated to purchase.
You can watch the entire Home Grown Food Summit for FREE by registering here today.
But if you'd like to take advantage of the PRE-SALE SAVINGS as well as be entered in the prize draw…
… You must act before Tuesday, March 19th at 9 p.m. CST.
Register to watch HERE for FREE
Once you're registered, you'll be given the opportunity to:
Grab life-time access at the pre-sale savings, and

Be automatically entered in the prize draw.

Some people ask me, "what's the catch."
Look – there's no catch.
Watch it live for free, or purchase lifetime access.
Marjory's mission over at The Grow Network is to stop the destruction of the earth by teaching and inspiring people to grow their own food and medicine.
This event is made possible by the sales of the digital + shipped recordings.
But everyone is invited to watch for FREE.
So, either way, I hope you can take advantage of this opportunity.
I sure plan to! I'm excited for Day 1 to start March 18th…