This pallet teepee idea is AWESOME.
This teepee design by Killer B has recently gained a great deal of notice because it's beautiful! Unfortunately, it's now unavailable seemingly because of a website rebuild. My only problem with the design is it doesn't use recycled pallets. That makes it a whole lot less fun and a lot less good for the environment. The one big pro to their design is the use of cedar which is going to be resistant to termites and other bugs.
I've always loved pallet crafts. A few years ago we had our neighbor in Acapulco make us a dinner table out of pallets we found from around the city and it turned out beautifully. That table was admittedly a lot more complicated than this teepee is.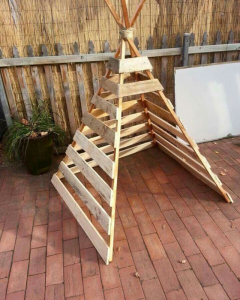 Why build a pallet teepee?
Many reasons come to mind, the first being kids. If you have kids it's an excellent project you can embark on with them that shows the value of recycling as well as will teach them skills for their future.
Another reason is for pets. Some have dogs that might enjoy a shaded area during the afternoon. I could also see this being a creative small chicken coop or birdcage. Another use case would be a garden. If you stagger the siding to leave gaps you can use it for growing climbing veggies like beans or squash.
Why Use Recycled Pallets to make a teepee?
Now there are several places with designs out there but in my opinion, they're either hard to access easily or just simply not recycled. There's value in having the nice cedar edition sure but in some regards even more value to recycling materials already out there.
Materials
5-6 pallets depending on the design
4-5 10 foot posts, can be 2×4 or 4×4. These should be the only new materials. Feel free to use cedar if it's available. Old unused wood is also fine too, but many people have wood sitting around with no current purpose.
Around 15 6 inch screws
2.5-inch screws for the bottom
1.25-inch screws for the siding
Saw and Safety Gear
Plenty of people to help
Pallet Teepee Instructions
This design is adjustable depending on what you intend to use it for, so the directions are left somewhat vague. If you have questions, feel free to comment with them! 5 posts will get you a bigger teepee likely better for kids. 4 posts are more than enough if you're using it for gardens. The thickness of the posts can vary too, I've even seen 1×1's used by some people!
This design also assumes you have a little carpentry know-how!
The first step is to measure and mark out the base. The distance between the posts depends on your use case for the teepee but whatever distance you choose should be the same all the way around. So for example, if you want it to be one pallet length, you need them all to be one pallet length apart.
Using Pallets for Teepee Siding
If you're actually using recycled pallets, try and make it so the base on one side is not wider than a pallet because you'll use those long pieces of the pallet for the siding, later.
Get that Teepee Started!
When you have these places marked on the ground stand up the posts with the bottoms in the intended positions. For larger teepees, it might make more sense to employ the help of friends. Use the 6-inchf screws to tie those together at the top.
Using a hammer or something with a pry end, carefully remove the pieces of wood that span the top of a pallet. This is only important if you're using recycled wood. Otherwise use fencing cut to the right size. These will be used for the siding. Use one of these pieces at the bottom with the screws for the bottom to keep it sturdy. If using fencing, just cut it to the right length and use those longer screws to fasten it.
Then using the recycled pallet pieces or siding pieces you make from fencing, cover the sides. You'll have to measure and cut each piece as you go. If you intend to use the teepee for a garden, leave some space between the siding panels.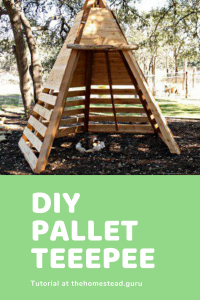 You can finish this with wood finish if you'd like, paint it or leave in its raw wood state. Whatever you do with this, it's likely to be a beautiful addition to any property.
Build an Awesome Pallet Teepee
Looking for more pallet crafts?
Check out this pallet garden tutorial!